Dork Diaries: Tales From A Not-So-Happy Heartbreaker
Comments

63
89pages on
this wiki
Dork Diaries: Tales From a Not-So-Happy Heartbreaker (also known as Holiday Heartbreak) is the sixth book in the Dork Diaries series. It was released on June 4th, 2013. [1]
Summary
Nikki is afraid to ask Brandon to the Sweetheart Dance. She is also afraid that before she gets a chance of asking him, he will ask MacKenzie, Nikki's snobby, lip gloss addicted arch-enemy instead of herself. Also, it was revealed in Tales From a Not-So-Smart Miss Know-It-All that she and her band, Dorkalicious, will record her original song, "Dorks Rule", with Trevor Chase. However, Trevor calls Nikki and tells her he won't be able to record with the band.
In this book, MacKenzie is more ruthless, evil, sneaky, and desperate than ever before! She hates Nikki so much that she takes VERY drastic measures just so she can try and be with Brandon and be the Sweetheart Princess. This book has very steamy entries with ups and downs. Read and find out how it ends!
Official summary (from book):
Nikki Maxwell's guide to knowing your crush likes you:
He wants to go with you to the biggest dance of the year.
(There's totally still time to ask him.)
(OMG-what if he doesn't say yes?!)
(OMG-what if he goes with with Mackenzie?!!!)
Nikki Maxwell's love life is finally looking up. Brandon, who she's been crushing on, like, forever, has asked her on an almost-date. SQUEEE! But when Brandon starts acting wierdly, Nikki's worried that he doesnt like her after all... And with a special dance coming up where girls ask the boys, Nikki wants to invite Brandon, but what if he says no - urgh, major cringe! Will Nikki find the courage to ask  Brandon to the dance, or will she be left at home like a true Dork-arella?
Trivia
This is the second time a dance is featured in the series. The first time it was featured was on Tales From a Not-So-Popular Party Girl.
Oliver makes his first appearance.
Jessica does not physically appear in this book. However, she might of being either one of the CCPs Nikki mentions or in the background, making a background appearer.
In this book, it seems that Brianna has lost her irratational fear of the tooth fairy forever, although this is the same in the other books. Instead, she now has an obsession with diva hair salon shows on TV, calling herself "Miss Bri-Bri, fashionista-hairstylist to the stars", constantly bugging Nikki about it. This might mean that it will continue through the books, and Nikki will need to stop it, like she did with the tooth fairy in Tales From a Not-So-Popular Party Girl.
Nikki reveals that Chloe and Marcy begged her to take over her Miss-Know-it-all column for a month, with a special Crush Crisis Love Advice column, so she did. She almost sent a letter to them, asking why love is such a cruddy thing.
 (CONTAINS SPOILERS ' Read at your risk!) Part of the whole story is about the picture Brianna took of Nikki . It was an incident where Brianna purposely made Nikki look awful, took an even worse photo, and sent it to everyone in her contacts (by accident). At this time, Nikki did not know about Mackenzie stealing Brandon's phone, and she made posters around the school, using the picture and saying "Vote Nikki for Sweetheart princess". Mackenzie did this to get Brandon to think she was awful. But then Brandon revealed at the dance that he designed a new poster on the back, a better one, so she wouldnt feel bad and to get people to vote for her instead of Mackenzie. 
Editions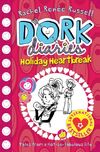 References