"
Summit Entertainment bringing Dork Diaries to life is a dream come true! My book series could not be in more capable hands. My fans and I are super excited to see Nikki Maxwell and her dorky world come to life.
"

– Rachel Renée Russell, about the movie announcement
Description
As of mid 2015, author Rachel Renee Russell announced that Lionsgate Summit would produce a Dork Diaries film.
The movie was to be directed by Mark Waters, who also directed award-winning comedy, Mean Girls. Many speculate that the film had been canceled due to a number of reasons as there was no more information about the movie's development since late 2015. As of August 2016, there had been not been at least a trailer released about the movie. It has not been confirmed yet by the author that the movie had been put off or even permanently discontinued production. The movie began filming in June 2019 and ended in August 2019. The film was shot completely in the Los Angeles area, with Robert F. Kennedy School Of The Arts portraying Westchester Country Day Middle School. The pool at Bell Gardens High School in Bell Gardens was used for the school pool. The Dorothy Chandler Pavillion was used as the Nutcracker theatre. The scenes set at Nikki's house were shot at a private residence in Studio City. The mall scenes were shot at The Glendale Galleria in Glendale. The Queasy Cheesy scenes were shot at a Chuck E. Cheese's restaurant in West Hills. The 15 minutes of fame scenes were shot at Los Angeles Center Studios
More Information
Movie Updates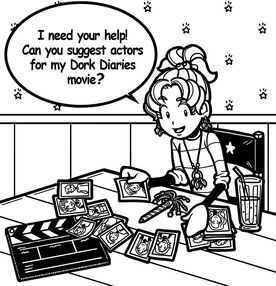 September 5th, 2014 - Russell announces that the film will be made!
May 15th, 2015 - Nikki announces she needs help with choosing actors/actresses for her movie.
September 18th, 2015 - Nikki announces Mark Waters will be the director for the movie.