Erin Madison is is the female protagonist of 
The Misadventures of Max Crumbly.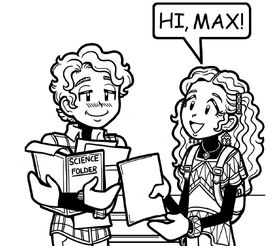 Description
She is a nice girl, and she is the secret crush of Max Crumbly and Doug Thurston.
Personality
We don't know much about her. However, Erin is a confident yet empathetic girl. She is one of the most popular girls at South Ridge Middle School and has high intellect. However, she has been shown to be slightly rude to Max (as seen in their phone call). She is also the president of the computer club.
Love Interest
Erin is Max Crumbly's secret crush and Thug. It is still unknown if she returns feelings to either one of them.
Ad blocker interference detected!
Wikia is a free-to-use site that makes money from advertising. We have a modified experience for viewers using ad blockers

Wikia is not accessible if you've made further modifications. Remove the custom ad blocker rule(s) and the page will load as expected.