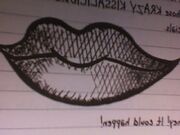 Krazy Kissalicious is a brand of lip gloss that MacKenzie Hollister and Nikki Maxwell like to use frequently. The lip gloss has only been featured in Tales From a Not-So-Fabulous Life.
Nikki explains to her diary that in, the commercials, they state,"Guys will fall in love with your fabulous, glossy lips." Being that at the time Nikki doesn't really know Brandon that well, she hopes that it will help Brandon fall in love with her.
Trivia
Nikki's current favorite lip gloss from this product is "Strawberry Crush Glitterati" because "It's yummy and tastes just like strawberry cheesecake."
Ad blocker interference detected!
Wikia is a free-to-use site that makes money from advertising. We have a modified experience for viewers using ad blockers

Wikia is not accessible if you've made further modifications. Remove the custom ad blocker rule(s) and the page will load as expected.