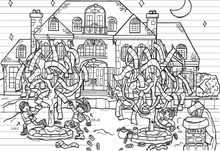 MacKenzie's House is the house of MacKenzie, Amanda Hollister, Marshall Hollister, and Miss Hollister.
History
MacKenzie's house first appeared on Dork Diaries: Tales From a Not-So-Fabulous Life. Nikki's dad went to exterminate MacKenzie's house because it was filled with bugs. Brianna goes inside the house with Nikki to use the bathroom in it.
It also appeared in Dork Diaries: Tales From A Not-So-Smart Miss Know-It-All when Zoey dared Nikki to toilet-paper MacKenzie's house.
It made a bigger appearance in Dork Diaries 9: Tales from a Not-So Dorky Drama Queen, and another small appearance in Dork Diaries: Tales from a Not-So-Perfect Pet Sitter
Layout
MacKenzie's house is about two stories with at least four bedrooms. Nikki says the mansion is huge and that the lawn is as big as a park.