"
"The room was decorated in shades of pink and had plush carpeting soft enough to sleep on. The laptop and big-screen TV were to die for. My entire bedroom could fit into the walk-in closet. But, personally, it was a little too sugar-and-spice for my taste. Like, how juvenile would THAT be?!"
"

– -Nikki's description of MacKenzie's bedroom.
| | | |
| --- | --- | --- |
|  ! | This article contains spoilers. Read at your own risk! |  ! |
MacKenzie's room was introduced in
Dork Diaries: Tales From a Not-So-Fabulous Life
.
It was on
Saturday, Sept. 28.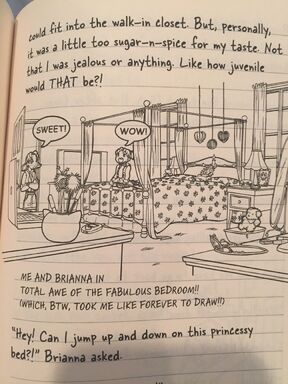 In the scene when Mr. Maxwell fetched Nikki and Brianna after watching Princess Sugar Plum Saves Baby Unicorn Island Part 3 at the cinemas. Nikki felt bad because his dad used the..... roachmobile.
Mr. Maxwell is an exterminator, and he told Nikki and Brianna to stay in the roachmobile and make sure no one steals Max while he exterminates bugs in a very large house. 
But Brianna wants to come in, so she said that she needed to go to the bathroom and pee. She met an old lady who told them to use one of the bathrooms upstairs.
Brianna dashed on the staircase and entered the first bedroom, Which, unknowingly to Nikki, was MacKenzie's.
Brianna and Nikki stared at it in awe, and Nikki even mentioned that she took "Forever" to draw it in her diary.
Brianna entered the bathroom as  she says, 
"Wow, I'm gonna get a bathroom like this for my birthday!"
Then Brianna put on cupcake body spray and strawberry soap. Then Nikki suddenly heard a "sickeningly familiar voice".
"But, Mommm! I CAN'T have my party with these horrible BUGS crawling all over! We should have had it at the country club like I wanted. This is totally YOUR fault!"
IT WAS MACKENZIE!!!
So, Nikki panicked, and as an excuse, she said that the tooth fairy was there, so Brianna would open the bathroom door and she could hide there.
They could hear MacKenzie speaking to Jessica Hunter.
| | | |
| --- | --- | --- |
| " | Jess, there's no way I can have a party now! Our house is crawling with bugs! What? ... How am I supposed to know what they are? They're these big, black,er... roaches or something. Some guy is here spraying, but now the house stinks! It STINKS, Jess! How can I have a party with the house STINKING!" | " |
Brianna got even more scared. THEN.... MacKenzie just said the perfect thing.
"TEETH!" Brianna had enough. So she went outside and kicked MacKenzie on the leg.
Of course, MacKenzie shrieked.
"MOM! I've just been attacked by a demonic munchkin! OMG! I think I'm bruised! I can't wear my new Jimmy-Choo flip-flops with a big bruise on my leg!"
MacKenzie was sooo angry. Nikki waited until she left her room, then finally she and Brianna left MacKenzie's house and ran into the roachmobile.
MacKenzie's Room also appeared in Dork Diaries 9: Tales from a Not-So Dorky Drama Queen