Miss Penelope is Brianna Maxwell's talking hand. She always gets the blame for everything Brianna does, and wherever Brianna goes, she is there. Nikki Maxwell doesn't like her, because she gangs up against her with Brianna. She is friends with Mr. Buttons, Oliver's puppet, because, as Brianna stated, they both like chocolate cake.
Trivia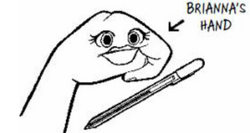 Brianna says Miss Penelope is her best friend.
Nikki once offered to give Miss Penelope a make-over.
Miss Penelope was Miss Bri-Bri's assistant.
Miss Penelope's name is Miss Penelope because she was "borned from a pen".
Ad blocker interference detected!
Wikia is a free-to-use site that makes money from advertising. We have a modified experience for viewers using ad blockers

Wikia is not accessible if you've made further modifications. Remove the custom ad blocker rule(s) and the page will load as expected.