Theo's House appeared once in Dork Diaries. It only appeared in Tales From a Not-So-Smart Miss Know-It-All when Brandon had a birthday party there. To get out of embarrassment, Nikki told her dad to pick her up at a house that was a street down. It didn't exist. So Mr. Maxwell came to Theo's dad at Theo's house to get directions. She got herself out of it. Right after she got settled and ready to go, Brandon asked why she had to go so soon. He sighed when she told him she had to leave. Nikki said goodbye and went down the street to meet her dad. When she was in the car, Brandon texted her and asked her if she would go to Crazy Burger with him.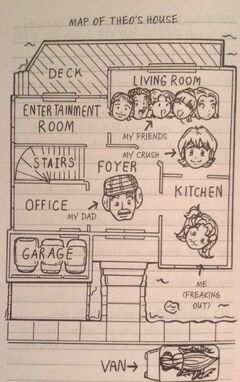 Rooms
Deck
Entertainment room
Living room
Foyer
Office
Kitchen
Garage
Ad blocker interference detected!
Wikia is a free-to-use site that makes money from advertising. We have a modified experience for viewers using ad blockers

Wikia is not accessible if you've made further modifications. Remove the custom ad blocker rule(s) and the page will load as expected.