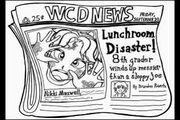 The Westchester Country Day News or WCD News is Westchester Country Day's local school newspaper. It was first featured on Tales From a Not-So-Fabulous Life when Nikki accidentally slips on the floor, courtesy of MacKenzie and Jessica. It is run by Mr. Zimmerman, and has appeared in 2 other books since then.
Participants
Nikki Maxwell - Advice columnist (Miss Know-It-All)
Chloe Garcia, Zoey Franklin, and Marcy Simms - Miss Know-It-All advice column assitants
Brandon Roberts - Photographer
Britney Chung - Photo Layout Artist
MacKenzie Hollister - Fashion Editor and Advice columnist (Miss Know-It-All) (Book 9 only)
Marcy Simms - Assistant Fashion Editor
Alex Westlake - Assistant News Editor
Chase Barrymore - Assistant Movie Reviewer
Brian Lopez - Assistant Comics Panelist
Justin Smith - Assistant Sports Editor
Ad blocker interference detected!
Wikia is a free-to-use site that makes money from advertising. We have a modified experience for viewers using ad blockers

Wikia is not accessible if you've made further modifications. Remove the custom ad blocker rule(s) and the page will load as expected.